Get the Research Edge
1 June 2023
It is pretty simple advice, but in the rush to write an application most people largely ignore it.
Thoroughly research a job before you apply for it.

A lot of people think that the interview will give them the research information they need in order to make a decision, but usually time is rushed and most employers don't see the interview as a two way process. Additionally, interviews are full of bias and misunderstanding on both their part and yours.
Research skills are increasingly important in knowledge based roles, so prove you are a good researcher.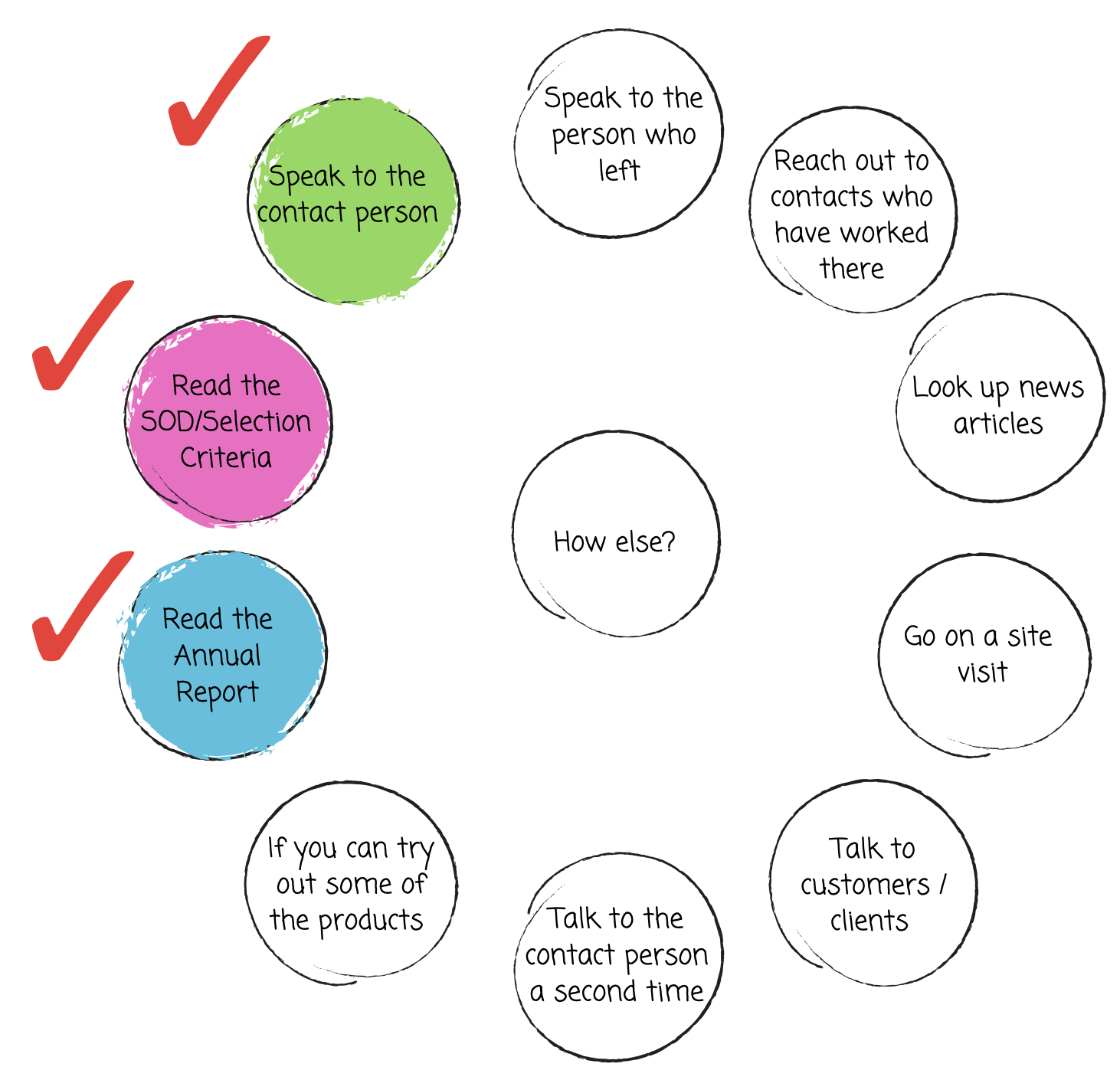 The absolute basics are:
A thorough examination of the Statement of Duties and the Selection Criteria. Does all the information in these documents line up or are there discrepancies to explore (there often are)?
Have a conversation with the contact person and ask future oriented questions about the role. The open question: "What can you tell me about... [see below]?" is perfect. A prudent approach to the contact person is one in which you haven't made up your mind to apply for the job yet - the conversation is about helping you decide if you apply.
Read the official organisational documentation e.g. the Annual Report. Does this documentation help you know the bigger picture purpose of the role and help you know that you will find meaning in doing it?
As a g good researcher you will dig beyond the basics. See the graphic above for a few more ideas.
Some things to research...
The manager and their leadership approach
The team and individual colleagues
The technology utilised
The future of the role
The working conditions
The real culture
The challenges coming down the line
The senior leadership team
The reputation of the team/manager
The roadblocks being faced
The learning opportunities / funding for learning
The avenues for flexibility
The ways things are celebrated
The approaches to problem solving
The funding sources
The times that are busy and the cycle of work
The stakeholders and their needs
The quality of equipment and IT
Of course no job is going to be perfect and your research is likely to uncover things that give you pause for consideration. This is OK. In fact a 100% fit is likely to leave little room for growth and emergence. You may also find out things that let you know the role is definitely not a good fit for you.
Go beyond the obvious when researching the job. Know things that other applicants won't know. Even more that internal applicants and even more than interviewers.
The action to take now is to create you own job research checklist, listing the things you want to know about for the next job you apply for. This will give you a head start on your research.
As always, wishing you a flourishing career.
Katherine